Course details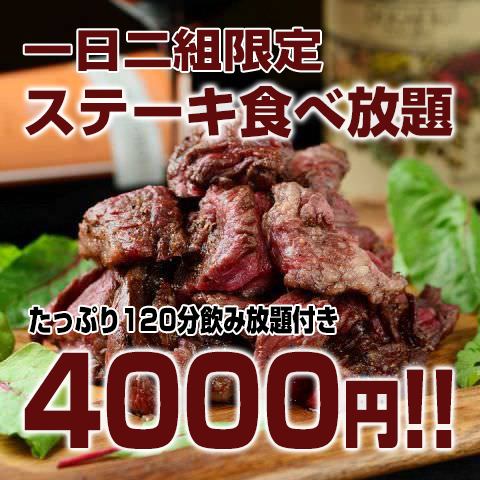 【2 all-you-can-eat, all you can eat】 All you can eat beef steak and 120 minutes 4000 yen ♪
By using a coupon4000 yen
※ tax inclusive price! Occupancy fee is unnecessary! ★ Friday · The day before the conference will be 4500 yen.
4items

3

-

34persons

All-you-can-drink available

120 minutes with all you can drink, we will ask last order 30 minutes before.Extension is possible with 500 yen for 30 minutes!
【Limited to 2 pairs a day!】 Because I am prepared for the deficit, I will make it 4500 yen on Friday and the day before the holiday.All you can eat as much as you can drink for 120 minutes, a super - affordable course of 4000 yen including tax ♪ Japanese style steak sauce, Andean rock salt salt, three kinds of grated wasabi taste Enjoy while enjoying the difference! * Rakuto cheese also available as an option ♪
Course menu
■ First appetizer plate
1, seasonal vegetable grill platter assorted 5 varieties
2, Hokkaido Tokachi potato salad
Assorted fried food ■
3, French fries
■ Main all you can eat
4, red meat served plate!
■ After all rice also!
5, please enjoy with steak ♪
Seasonal dessert
6, refreshing mango sorbet
For you who love cheese ♪ I recommend Rakuru Rakulette cheese ♪ 1 shot 480 yen!
All-you-can-drink menu
·beer
· Asahi Super Dry bottle
· High Bow · Whiskey
· High Ball / Ginger High Ball / Cork High Bowl / Apple Wine High Ball
· Sour · Shochu High
· Lemon Sour / Lime Sour / Gianton Sour / Sequacer / Oolong Hi / Green Tea High / Pure Hiplane
·wine
· Sparkling wine / glass wine (red · white · rosé) / sangria (red · white) ♪ provided with a decanter by 3 or more people ♪
· Plum wine · Fruit sake
· Minami Takashi plum wine from Kishu (rock · soda · water split · hot water split)
·Sake
· Shochiku Meishi 1 (hot and cold)
·Cocktail
· Shandigafu / Cassisubia / Lemon Beer / Cassis Soda / Cassis Orange / Cassis Oolong / Cassis Back / Gin Tonic / Jinbac / Orange Blossom / Moscow / Vodka Tonic / Bulldog / Screwdriver / Fuzzy Navel / Peach Tree Fizz / Peach Oolong / Lam Coke
· Shochu
· Black Kirishima (potato) / Ichiban (wheat) (rock · soda · water split · hot water split)
·Non-alcoholic
· Non-Casio Casio / Non-Allowed Chardonnay Sparks / Non Aluminum · Gin Tonic
·Soft drink
· Orange / Grapefruit / Coke / Ginger Ale / Oolong Tea / Green Tea / Calpis / Calpis Soda
Reservation deadline

Up to 20 o'clock yesterday on the day before the store visit
Available days for reservation

Monday - Sunday - Public holidays - Holidays
2018/12/09 update