Course details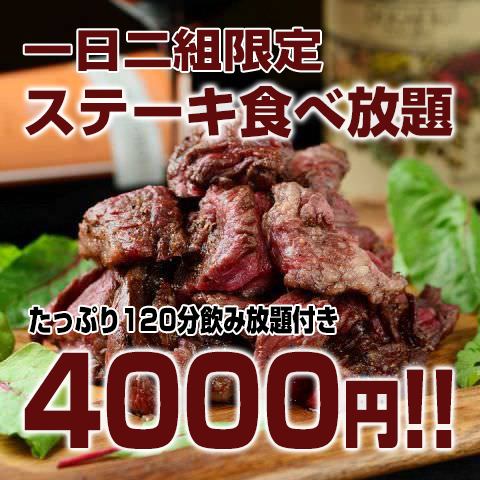 【2 all-you-can-eat, all you can eat】 All you can eat beef steak and 120 minutes 4000 yen ♪
By using a coupon4000 yen
※ tax inclusive price! Occupancy fee is unnecessary! ★ Friday · The day before the conference will be 4500 yen.
4items

3

~

34persons

All-you-can-drink available

120 minutes with all you can drink, we will ask last order 30 minutes before.Extension is possible with 500 yen for 30 minutes!
[Summer Limited] Because I am prepared for the deficit, I will make it 4500 yen on Friday and the day before the holiday.Biss and wax popular menu, easy to eat asleep, unrefined red steak plate All you can drink for 120 minutes, it will be a super - affordable course of 4000 yen ♪ Japanese style steak sauce, Andean rock salt salt, three kinds of grated wasabi taste Enjoy while enjoying the difference, please enjoy! ※ Rakuto cheese also available as an option ♪
Menu
■ First appetizer plate
1, seasonal vegetable grill platter assorted 5 varieties
2, Hokkaido Tokachi potato salad
■ fried Assorted
3, French fries
■ Main all you can eat
4, red meat served plate!
■ After all rice also!
5, please enjoy with steak ♪
■ season of desserts
6, refreshing mango sorbet
For you who love cheese ♪ I recommend Rakuru Rakulette cheese ♪ 1 shot 480 yen!
All-you-can-drink menu
·beer
Asahi Super Dry Chubin
High ball whiskey
· High Ball / Ginger High Ball / Cork High Bowl / Apple Wine High Ball
Sour sake High
· Lemon Sour / Lime Sour / Gianton Sour / Sequacer / Oolong Hi / Green Tea High / Pure Hiplane
·wine
· Sparkling wine / glass wine (red · white · rosé) / sangria (red · white) ♪ provided with a decanter by 3 or more people ♪
- Plum wine, fruit liquor
· Minami Takashi plum wine from Kishu (rock · soda · water split · hot water split)
·Sake
· Shochiku Meishi 1 (hot and cold)
·Cocktail
· Shandigafu / Cassisubia / Lemon Beer / Cassis Soda / Cassis Orange / Cassis Oolong / Cassis Back / Gin Tonic / Jinbac / Orange Blossom / Moscow / Vodka Tonic / Bulldog / Screwdriver / Fuzzy Navel / Peach Tree Fizz / Peach Oolong / Lam Coke
Shochu
· Black Kirishima (potato) / Ichiban (wheat) (rock · soda · water split · hot water split)
·Non-alcoholic
· Non-Casio Casio / Non-Allowed Chardonnay Sparks / Non Aluminum · Gin Tonic
·Soft drink
· Orange / Grapefruit / Coke / Ginger Ale / Oolong Tea / Green Tea / Calpis / Calpis Soda
Reservation deadline

Coming to the store until the day before the desired date 20
Available days for reservation

Monday - Sunday - Public holidays - Holidays
2018/10/04 update